Foreword: I spent most of Friday trying to download these pictures. I must say I haven't cussed that much in quite awhile. So today it worked, sort of.
The cabinet you see here was a special order. It was meant for a tv or clothes yet was unfinished. The cabinet maker is/was an old man and offered to make the cabinet serve our intentions. The finish was important, of course. 
And as such, the mister wanted something special and was sold on a deep purple. I wasn't involved and only later became involved for storage purposes. Am I being too vague? Well tough.
Be it known that the whole deal was the mister's department. I stood on the sidelines. 
And waited. 
And waited.
Where is it? I would ask. 
And waited. 
Finally he called and found out the old cabinet maker had had a stroke. 
Years rolled by. 
The old cabinet maker survives !!! and finishes the purple monster, and GET THIS delivers it himself!!!! to our country home via his old pick-up truck.
A special order LP Record Album Cabinet.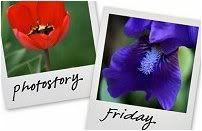 Hosted by Cecily and MamaGeek