Me: What time do you think it's getting to be?
Him: Noon hour.
Me: No way! It was noon hour at the restaurant.
Him: Okay. After noon hour.
Me: You haven't a clue.
Him: Do too. It's 6:AM International.
Me: What are you talking about???
Him: I got a sign.
Me: Is this another flashback?
Him: No. It's a sign.
(Judy looks up to see it actually is a sign.)
Me: Oh wait. I've got to take a picture.
Him: (in a teasing tone of voice) For your blog?
Me: Dude, I'm blogging this sign.
(Further down the road at the second summit, we stop again.)
Me: I bet the Victorians had picnics here.
(There is a carriage road that circles the mountain twice.)
Him: What did they eat?
Me: Fried chicken.
Him: Greasy fried chicken.
Me: With finger bowls.
Him: With sliced cucumber.
(Now we are moving at 50mph or so.)
Me: Black and white horses and cows! Did you see that? Someone has a thing for black and white animals.
Hey turkeys. Look!
Me: Hey Look! More turkeys on your side. One hundred wild turkeys!
Him: It's Turkey Time!!!!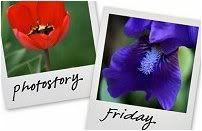 Hosted by Cecily and MamaGeek