The time has come the walrus said. I remember the first day I had my camera. The UPS guy threw a package over the fence. I went out to investigate and discovered it was for me, and it was a camera! A mighty Casio Exilm point and shoot with a cradle to download and recharge. A nifty package, to be sure. Thanks Dad!  
Me and my camera, we became inseparable. I promptly lost the instruction manual and had to figure it out by going through the menus. I probably would have done it that way anyway. I discovered I could shoot movies and download to iMovie and add music and swipes and titles and credits, and then I discovered the whole world knew how to do this and there was this place called YouTube, and boy, are there some freaky people out there!
So I shelved YouTube and concentrated on capturing everyday life with photography. The above photo was a random pick of all of this year's snaps. I had to stare at it for a long time to figure it out. Finally I had to look at some photos that were shot before and after to get the whole story.
Started to snow on my way home from work last January.
Snow at my front gate.
I got so excited. I ran down to the river. Light was getting low.
Came back to my house, went inside and hung my hat. Hey! It sparkles! The saying in the frame says, "A cat is so nice come home to." 
Except when he's grumpy.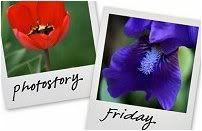 Hosted by Cecily and MamaGeek