Shopping wasn't all that bad today. People were out in droves, all pushing down the narrow sidewalks using their baby carriages as lethal weapons. Holy moly! I'm not used to people in numbers, or to people who are so self-absorbed that they are banging into me. Maybe I've turned into a isolationist country girl who is very satisfied (read: in love) with the internet and more importantly, internet shopping. 
That said. You can't get a Christmas tree on the internet. Oh yes you can, says the smarty pants in the group. Yes you can, but humans are tactile beings with forest DNA, and I have a major love of romping around the tree lot looking for that perfect tree. 
At last I found you. Meet my tree!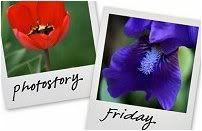 Hosted by Cecily and MamaGeek